About Lady Golfwear
Lady Golfwear offers stylish, comfortable, affordable women's golf clothing.
We believe in looking and feeling great on the golf course.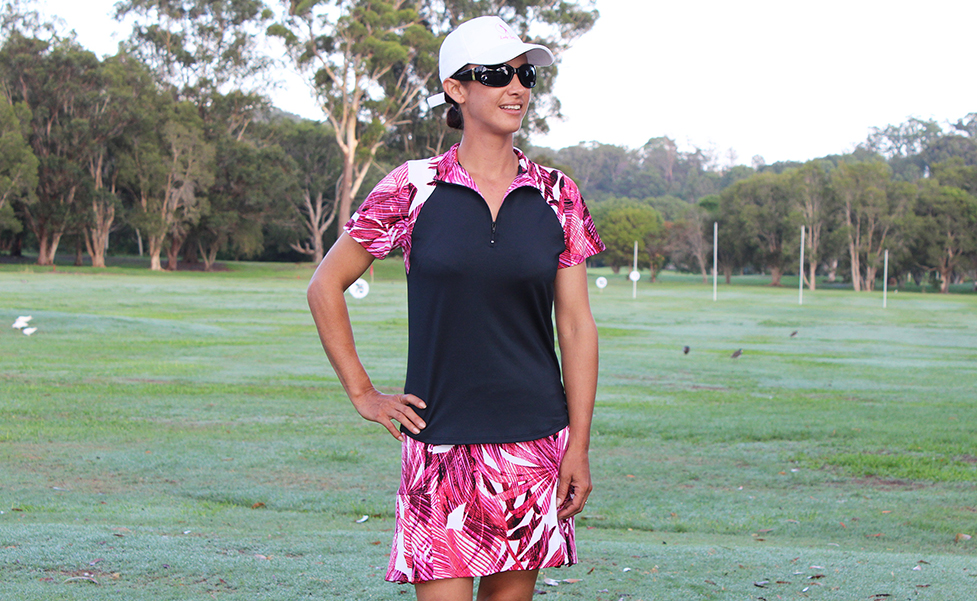 We are a family owned & operated business; designing, producing & marketing our unique products from our home studio in Ocean Shores NSW.
We are well known for our fun bright colours and bold prints. All our clothes are designed by Marylou, and are unique to our brand.
You can purchase our products here at our online store.

Designed for Golf
Our clothes are designed to allow movement, with comfortable styles and specialty fabrics. We include pockets, and built in shorts to make them practical. Collars help with sun protection and complying with dress club regulations.

Our clothes have been specifically designed for golf, however many women find them equally suitable for tennis, netball, cycling and other sports including casual wear.
Inclusive Sizing
We offer sizing from XS (size 8) to 3XL (size 20). We understand that women come in all shapes and sizes so we do our best to accomodate this with our cuts and sizing. We try to keep to standard Australian sizing and you can view our size chart to make sure your garments will have the best fit.
High Quality Sports Fabrics
Lady Golfwear sources the best sports fabrics from around the world. Many of the fabrics we use are designed to be moisture wicking; pulling sweat away from your body to keep you feeling fresh. Others use special technology to help lower your temperature and keep you cool.
Made in Australia
Our products are all made in our Ocean Shores studio in NSW and we purchase fabrics from Australian suppliers.
Stay Connected
The best way to stay up to date with our latest offerings is by signing up to our email list using the form at the bottom of every page.
You can also find us on Facebook, Instagram & Pinterest.